Grimes/Beechcraft
Since 1968 we have been one of the largest suppliers of Beech 18 parts worldwide with Beech parts experience dating back to the mid 1950's. A concept was born to be a leading supplier of parts to an aircraft as unique as aviation itself, supplying parts to the Beechcraft Model 18 and its many derivatives: AT-7, AT-11, C-45, D-18S, E, G and H18. In 2011 we are still servicing a customer base that spreads from California to Switzerland, Africa, Australia, New Zealand and the Orient.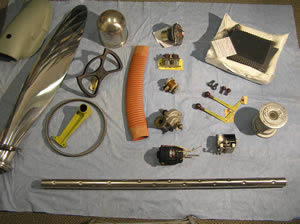 Here is a small assortment of the thousands of Beech 18 parts on hand.
Our focus is to provide new, unused, AAA quality material. No used parts or salvage found here. In addition, we offer overhauled exchange on accessories such as landing gear motors, relays, sending units, etc.
As they go hand in hand we also supply Hamilton-Standard Propellers and parts, as well as Pratt & Whitney engine parts and accessories.
In addition to the airframe business we have also owned and operated our own Model 18's which gives us a unique perspective to the customer who may have questions about care and maintenance.
Call or email us anytime for fast, knowledgeable service.
"Beech 18 spoken here."