Agriculture
A long time supplier of Grimes lights to the major makers of U.S. built agriculture aircraft, Avlite has a full stock of related lights and components, helicopter as well as fixed wing.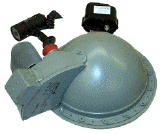 Strobes, power supplies, searchlights, retract lights, beacons, panel and cockpit lights are all on hand. We also stock all of the standard usage seal beam and miniature lamps for any of these applications. New, overhauled and exchange units are on the shelf ready for immediate delivery.
Call Tom for the lowest prices anywhere on top quality material.